The Romanian beach party was chaos. Of course, I was in bed by midnight (and despite drinking 12 free beers and some free shots of the local liquor, Shane wasn't that far behind). But for other teams it was a messy all-nighter, culminating in the loss of important belongings (phones, wallets, passports, inflatable couches…)
The next day we were soon on the road to Bulgaria and to Turkey. Shane was probably still too drunk to drive, so I drove the long stretch on a windy, bumpy, one-car-at-a-time-only road through Bulgaria. Many, many hours later, we reached the Bulgaria-Turkey border crossing. This was fairly straightforward – I bought some expensive car insurance (our policy was only valid in Europe, so this is going to be a common occurrence from now on), we managed to skip the baggage check (a border guard took one look at our car full of stuff and obviously couldn't be bothered unpacking it all and checking it, so waved us straight through), and another border guard stopped us right at the last minute…. to ask if he could sign Martha.
As we carried on down the road towards Istanbul, things took a downward turn. By this point, I'd been driving for around nine hours. We had only stopped to get petrol for Martha and to cross the border. I'd had nothing to eat, and very little sleep due to the noise from the crazy beach party the previous night. I needed a break. I asked Shane if he could take over the driving, and he gently pointed out that we had a little problem. I had managed to buy car insurance for myself (and for Martha) but not for Shane. I would have to drive the rest of the way, and all day the next day, and all day the following day, until we made it out of Turkey.
Then, things got a little worse. Having left the EU, we could no longer roam the internet for free, so were relying on a free app with the maps we needed downloaded onto it as our only navigation tool. This did not work very well, and we quickly found ourselves going on a big toll road in the wrong direction. We had no idea how to pay the toll, and there was no way off the road for the next 20 or 30 kilometers. We stopped at a petrol station to see if we could find out how to pay the toll (answer unclear, we ended up buying a special sticker for the car which acted as a kind of smart-toll-ticket… we loaded some money on to it but never really found out how it worked or if we paid enough). We also asked a nice man who spoke English whether the insurance I'd bought covered Shane to drive. He offered some conflicting information (no, the insurance didn't cover Shane, but it did cover nine other drivers??), but reassured us that: "This is Turkey, so… of course you can drive. The Police can't even read this." Lovely. The man obviously felt sorry for us, as he also tried to pay our toll, which was incredibly generous. But of course we could not let him pay for our mistakes, so we thanked him and were on our way.
But on our way to where, exactly? We had found a potential campsite on the outskirts of Istanbul, but when we finally made it there (late at night), it didn't seem like a safe or good camping spot at all. We attempted to navigate towards an alternative campsite (using our rubbish app), but ended up on a terrible pot-hole filled road, driving at snail speed, and worrying that the campsite would be full and / or closed by the time we arrived. We pulled into a restaurant to ask for some advice, ended up staying for a delicious meal, and becoming the star attraction as we made several new friends who wanted to sign Martha and hear about our journey.
They also told us that there was nowhere safe to camp in the area, and suggested we head on another 30kms to the beach. Of course, we got lost, so they sent someone after us who made sure we followed him to the main road that led to the beach. Well, we still managed not to get to the beach, and instead pulled into a truck stop not far away from the centre of Istanbul and attempted to sleep in the car.
This turned out to be a mistake. We have a lot of stuff in the car: camping gear, food, bags, and general stuff. There is no room to sleep. We managed to clear the back seat but it was still very squashy and uncomfortable. It was also boiling hot – like being in a sauna. So, I opened the back window a tiny bit. This also turned out to be a mistake. After a sleepless night trying to get comfortable, panicking about local axe murderers and generally having a terrible time, I woke up to find I had been bitten around 30 times by mosquitoes in the night. I also woke Shane up at around 5am screaming because I thought someone was trying to get in through the open rear window. That was a serious Georgia-meltdown.
But, hoping that things could only get better from here, and vowing to find a proper campsite for the next night, we drove away from Istanbul at about 5.15am and so made it all the way to Samsun, around 800kms away, by the afternoon. We did find a proper campsite, and had a lovely evening drinking tea with some local residents and swapping stories (mostly about mechanical engineering).
Another drive day to Batumi in Georgia followed. The border crossing was a bit chaotic and took around two and a half hours, but we made it through without complications (although also without  car insurance, which is apparently not compulsory in Georgia) and stayed for two nights in a hostel to have a break from driving and a good night's sleep in a real bed. We had a lovely day in Batumi going up the alphabetic tower, exploring the beach and chilling out in the old town.
The following day we drove to Tbilisi, and had a very pleasant afternoon wandering around the old streets. Both Shane and I have enjoyed Georgia more than anywhere else so far (and not just because everything has my name on it).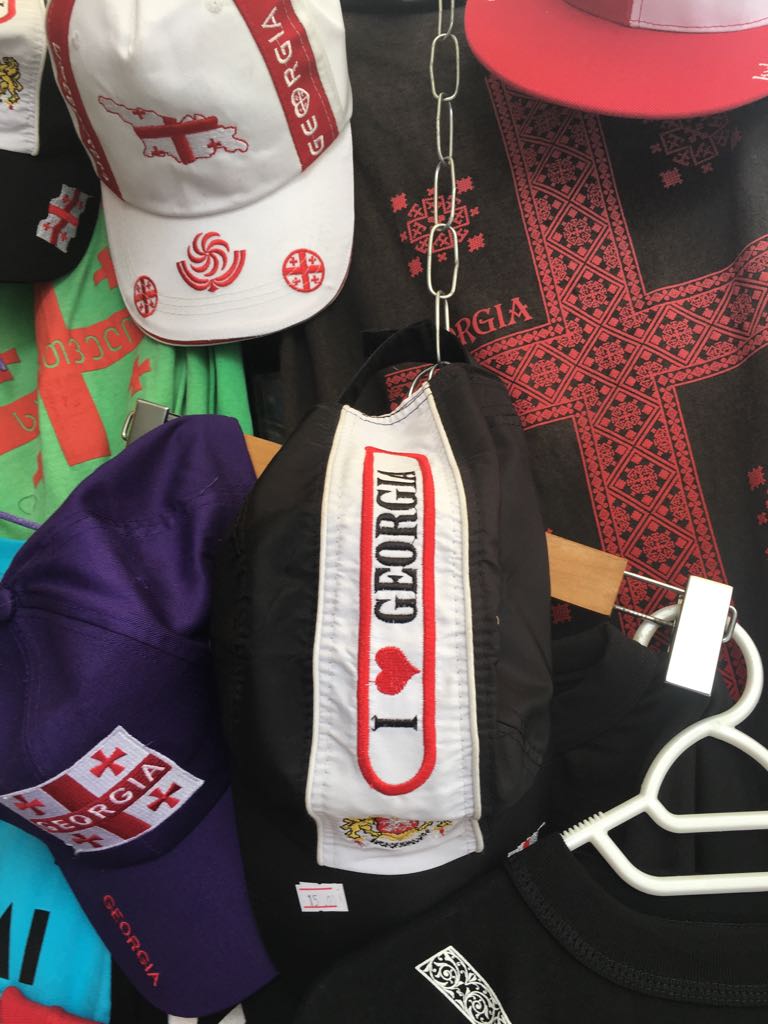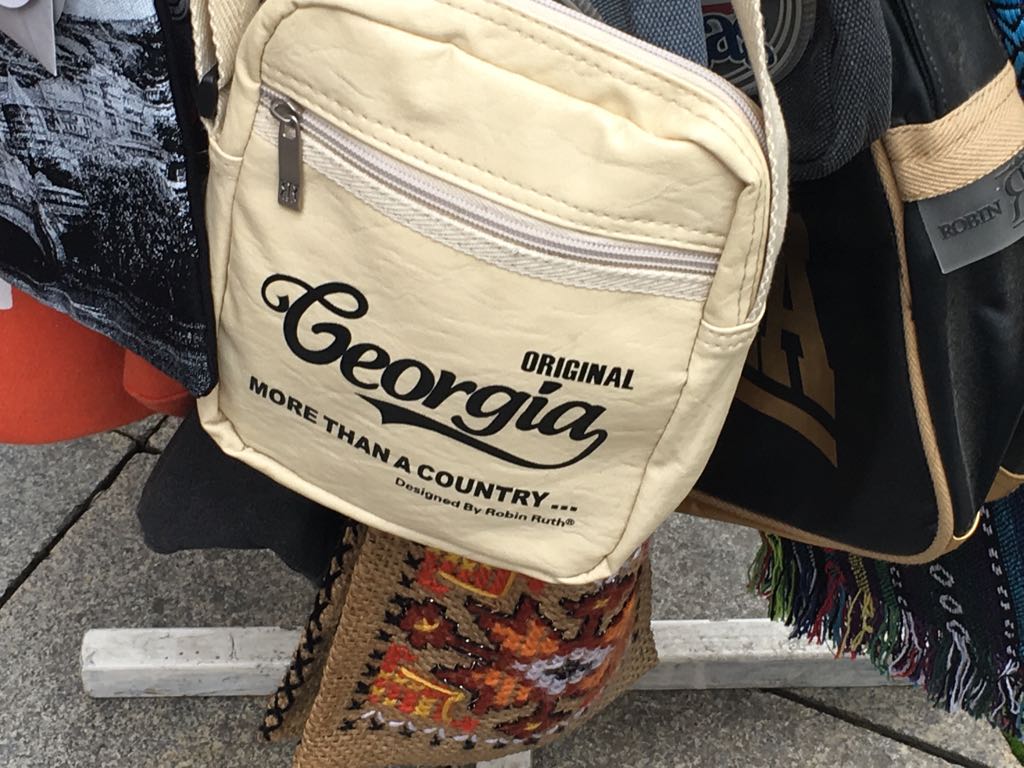 It is like a hidden treasure, tucked away by the Black Sea, not quite in Europe, and not quite out of it – on the "balcony of Europe", so to speak, with a unique identity and culture. Tbilisi seemed like a lovely destination for a weekend away. The only downside is that driving around is a nightmare. Cars do not have to have insurance, be road worthy in any way, and apparently do not have to follow normal road rules. That includes speed limits, traffic lights, stopping at junctions, giving way at roundabouts… just, you know, everything (Shane has written more about driving in Georgia here).
After another day of driving and another border crossing, we have now arrived in Baku in Azerbaijan. Rising out of the desert landscape, Baku is a strange mix of old and new, Asian and European. We spent the day walking the streets of the old city, visiting the Palace of the Shirvanshah's, admiring the Flame Towers and attempting to visit the museum of miniature books (which is sadly closed on a Thursday).
We've driven around 5,000 kilometers now, and while we are still in Eurovision territory, the landscape is changing fast. Azerbaijan is flat and immense, and the heat is intense. We've also caught our first glimpse of the Caspian Sea. We're hanging out on the balcony of Europe, about to (hopefully, ferry permitting) step off into the great unknown that is Central Asia.