Crossing from Argentina into Brazil was so easy that we barely noticed it happening. Spongebob needed to go to the garage, so James drove him separately, and the rest of the group took a minibus across the border. At one point, the driver stopped, got out with our passports, disappeared for no more than five minutes, and then came back. We had left Argentina without even getting out of the bus. A few minutes later, the driver stopped again. "Did you need the Brazil stamp?", he asked. We looked a little confused. "Yes…" answered Gayle, our tour leader, and she went with him to get our passports stamped. After another few minutes they were back, all our passports were decorated with a dubious looking stamp, and we were in Brazil, where apparently passing through immigration or customs is unnecessary, and a stamp is a nice extra.
We spent two nights near Foz do Iguacu, and as it had taken us about ten minutes to get from Argentina to Brazil, we found that we had plenty of time to see all that the area had to offer. Shane, Andrea and I started by visiting Iguazu Falls again, entering another theme-park style national park (I wondered whether Brazil and Argentina were competing to provide the nicest Iguazu Falls experience), and walking along various paths to catch another glimpse of the falls.
From the Brazil side we got a completely different perspective. While in Argentina we could peer over the top of the devil's throat and walk right up close to the falls, in Brazil we enjoyed panoramic views from every angle, and were able to appreciate the size and scale of the falls in a whole new way. In some ways, the falls were even more spectacular from the Brazil side, but I was very grateful we had had the time to visit both sides.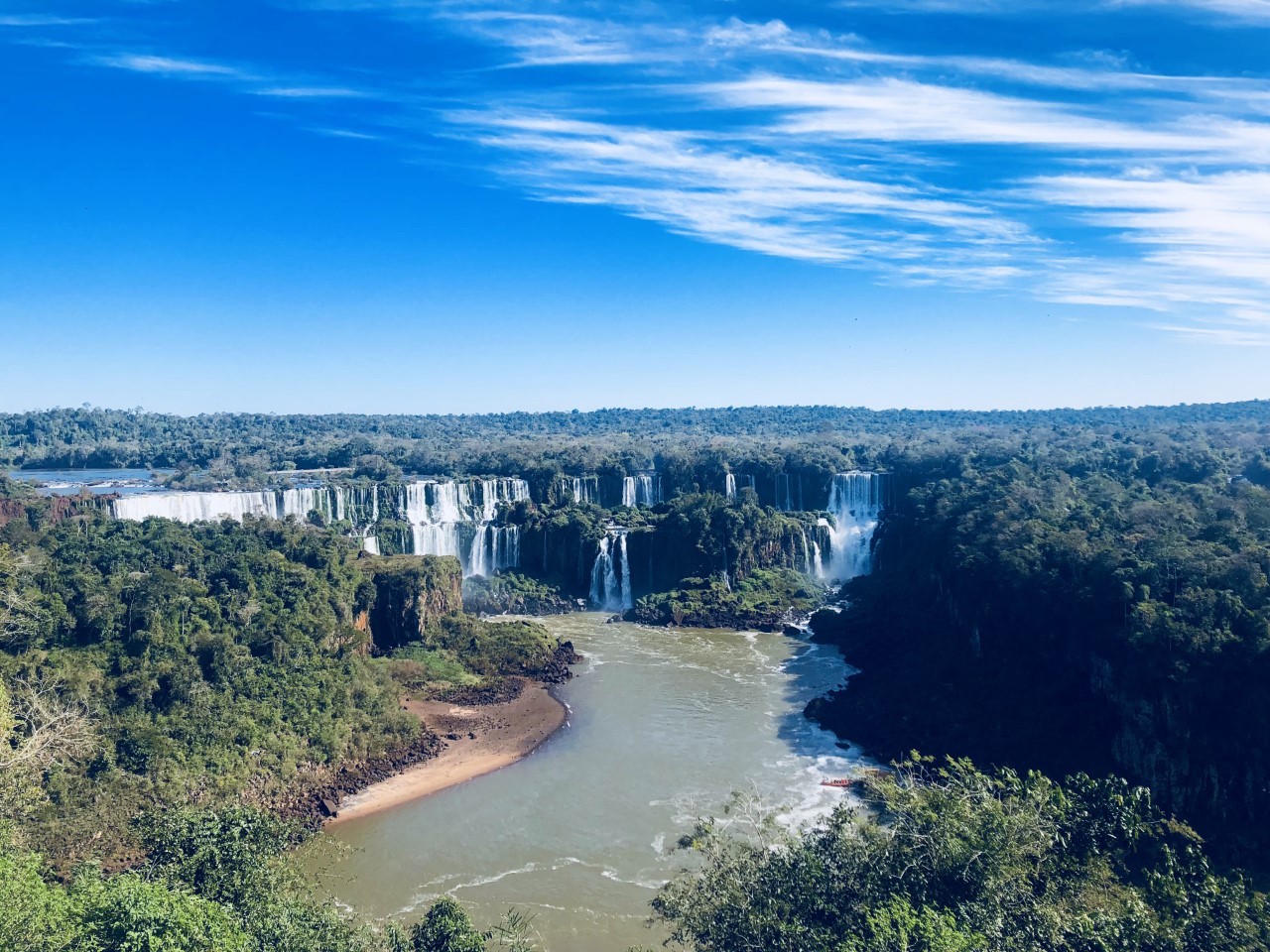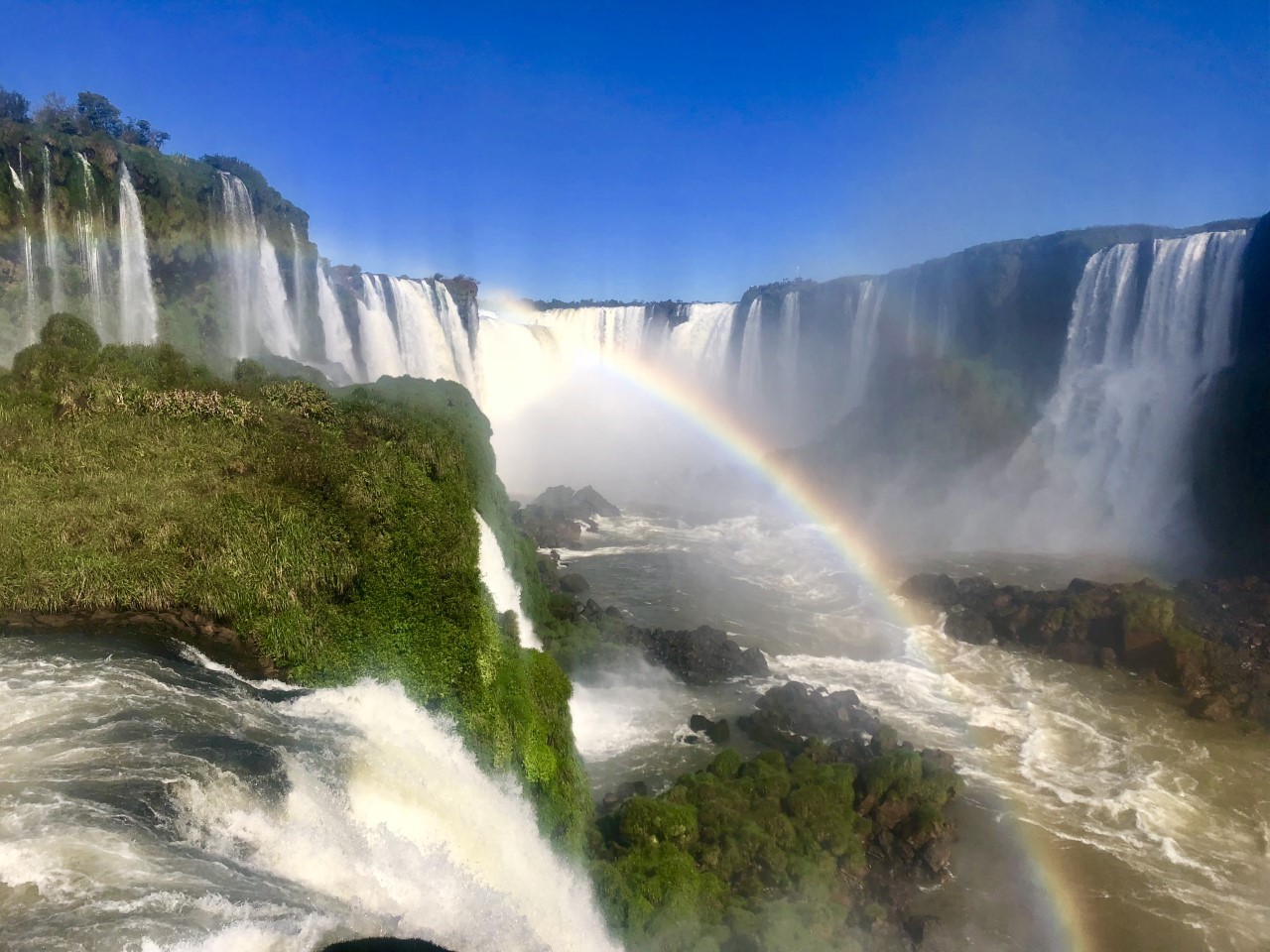 The next day we took a bus across the border into Paraguay to wander around the shops, as Paraguay is known for its cheap electronic goods. It was even easier to get into Paraguay than it was to get into Brazil – the bus went straight across the border, we didn't stop for immigration, passport stamps or customs. We then progressed from shop to shop, looking at everything from clothes to iPhones, comparing prices and considering luggage limits. Getting from shop to shop also involved walking along the street, where we had to dodge various people selling us tasers (hearing the buzzing noise of the taser coming towards your head does not make you want to stop and buy one), and refusing the many people who tried to sell us packets of plain white socks (it turns out that if you say "yes, I would like to buy these socks", that is actually code for "please can I buy some drugs"). Eventually Shane purchased a tube-shaped JBL speaker that he was very excited about, and they had it in a turquoise colour, which I was very excited about, and then we went back to Brazil.
In the afternoon we decided to visit the Itaipu dam, an impressive feat of engineering and symbol of cooperation and partnership between Brazil and Paraguay. The dam is eight kilometres long, and in 1994, the American Society of Civil Engineers elected it as one of the seven modern Wonders of the World. Despite its size, when we got off the bus at the end of line, a forest and a large security block meant that we couldn't actually see it.
We tried to pass through security and walk up to a viewpoint, but were stopped and directed to a tourist office on the other side of the road. We went across and asked a helpful member of staff how we could see the dam. "You can book a tour", he explained. "It takes two and a half hours, includes a short documentary presentation and takes you to several viewpoints." By this time it was nearly 4pm, and none of us really wanted to spend two and a half hours looking at the dam. "We don't really want to do a full tour, we just want to see the dam for a moment", Andrea explained. "Is there somewhere we can go just to get a quick view?". The answer was no, so we took a map and resolved to give it some thought.
While I remained reasonably ambivalent about the dam, I knew Shane was keen to see it, and Andrea didn't want to miss out either having journeyed all the way there. We studied the map, but could see no obvious place on our side of the security zone where we might manage to see it. Eventually Andrea decided she would go back to the security checkpoint, and see if there was anynway we could get in.
We walked back up to the security checkpoint, which completely took over the road and was patrolled by a several security officers. From looking at the map, Andrea had noticed that the dam wasn't the only thing of interest within the security zone – there was a university there too – and when Andrea was redirected to the tourist office, she explained that, in fact, we had no interest in the dam at all! We simply wanted to visit the university!
Whether she believed us or not, the security officer directed us into a small office where we had to present our passports and some paperwork was filled out in order to grant us some sort of temporary access pass to the area. It wasn't a quick process, and at some point Andrea was handed a phone, and had a conversation with someone at the university about what we were doing. "We just wanted to visit the library", she said, and with no more questions asked was told to take the orange bus from the security zone to the university, and to meet someone called Newton in a specific room.
Following this conversation we were handed a temporary access pass, which got us through security with a knowing nod from the lady who had sent us away earlier, and waited at the bus stop for the orange bus. From the bus we caught a slight glimpse of the dam, but arrived at the university without getting any good views or photos. We found Newton in the middle of a dissertation meeting which made us feel very guilty, but it turned out he was secretary for his department and he was happy to show us around. I have no idea what he thought three European tourists were doing there, or why we might have come all this way to see the university library, but he didn't ask, and we didn't explain.
By the time we got to the library it was 5.30pm, and 6pm was closing time, so (luckily) we only had a short window for our tour. As Newton explained to the library staff in Portuguese that we had come from the U.K. to look round the library, I could tell by their confused faces and questions that they were wondering why, but thankfully they either didn't speak enough English or were too polite to ask us directly. We spent half an hour pretending to be amazed by the library, expressing enthusiasm for the fake degrees we were pretending to study (engineering, maths and geography), and learning interesting facts, such as:
– The library was featured in a Brazilian magazine for being a really nice library
– The library was completely empty because it was August and all the students were on holiday
– The library has ten copies of every book, so students don't fight over them
After our enlightening library tour we bid Newton goodbye and pretended to board the orange bus back to the security checkpoint, changing course at the last minute when Newton was out of sight. Aware that we weren't really supposed to be anywhere other than the university library, we quickly and stealthily walked for about a kilometre to a viewpoint of the dam, which was marked on our tourist map. It seemed further to get there than the map had suggested, and by the time we reached the viewpoint the sun was setting over the dam.
Including the first bus from Foz de Iguaçu it had taken us about three hours to reach the dam, and despite being huge, it was somehow underwhelming. It just looked like a big dam. Even Shane failed to be impressed, and so after a quick picture we tried to walk back to the nearest orange bus stop. We looked at the times on the bus stops all around us and found we had missed the last one. To get back to the security check point we would need to walk back to the university and catch the orange bus, or try and flag down a bus from the main road.
As we were deliberating which way to go, a security vehicle passed by us, stopped, turned around and came back down so that we could talk. We were very clearly told that we weren't supposed to be there, and we needed to go back to the university. We did as we were told. As we walked back up to the university, we spotted the orange bus coming straight towards us. As it was now getting dark and we really, really wanted to get back, sp we waved our arms and, thankfully, it pulled over. We got back on the bus and in no time at all were back on the right side of the security fence, and back on the bus to Foz do Iguacu.
—
From Foz do Iguacu, the plan was to drive up the coast to Rio, camping for a couple of nights at Santiago beach, and then another couple of nights in the historic town of Paraty. We arrived at Santiago beach to find that the place where we had planned to camp was reached only by driving down a very narrow, muddy road, which was barely big enough for Spongebob. To make matters worse, the campsite itself was a mudbath, with chickens running riot and no one around. Gayle and James quickly decided to abandon the plan, and drive along the road until we could find a suitable bush camp. Eventually we stopped close to the beach, where we could see the sea from our tents, and were visited by a few inquisitive locals who wanted to talk to us (unperturbed by the fact that none of us could speak Portuguese), and take a few photos.
The next day we pressed on straight to Paraty, where we found a proper campsite and wandered around the town's quaint, cobbled streets. We attempted to book a boat trip for the following day, but woke up to find torrential rain pouring down around us. The rain barely relented, and so I spent two days cooped up under cover, venturing out only for necessities. Some of the rest of the group headed further afield, but their attempts at watersports were thwarted when they couldn't find anywhere to hire a kayak in the rain.
—
From Paraty it was a relatively short (250 kilometre) drive to Rio de Janeiro, the final point of our South American adventure. We gathered our belongings, said a final goodbye to Spongebob, and then headed out for our last group dinner at a typical Brazilian buffet restaurant where the amount you pay depends on the amount you put on your plate!
Our next few days in Rio were spent sight seeing, relaxing and starting to think about the final phase of our trip. Our first stop was the pretty hillside neighbourhood of Santa Teresa, which felt eerily quiet as we climbed the winding streets up to the vintage shops, galleries and street art on top of the hill. We wandered around for a while, taking in the scenery and trying to get a good view of the city below.
Eventually we stumbled across the famous Selaron Steps, 215 steps which have been covered in tiles, ceramics and mirrors by Chilean-born artist Jorge Selaron. The steps are a beautiful work of art – they are covered in 2,000 tiles from over 60 countries across the world – and they are a very popular visitor attraction too. We managed to arrive mid-morning, which seemed to be a terrible time to be looking at the steps as  there were hundreds of other tourists around doing the exact same thing, and it wasn't really possible to get a good view of the steps without spoiling someone's photo. It also didn't help that we managed to approach the steps from the top rather than the bottom, meaning we didn't actually get to see them until we'd managed to dodge all the people/camera/selfie stick obstacles and made it to the bottom.
The next day we took an early train up to the iconic statue of Christ the Redeemer, a huge, concrete statue of Jesus who watches over the city. It was good to get there early on a clear day, as we managed to get a few photos and take in the beautiful views before the crowds became overbearing, but eventually it became impossible to move without bumping into someone, walking into a selfie stick or ruining a photo, and we took the train back down the steep hillside.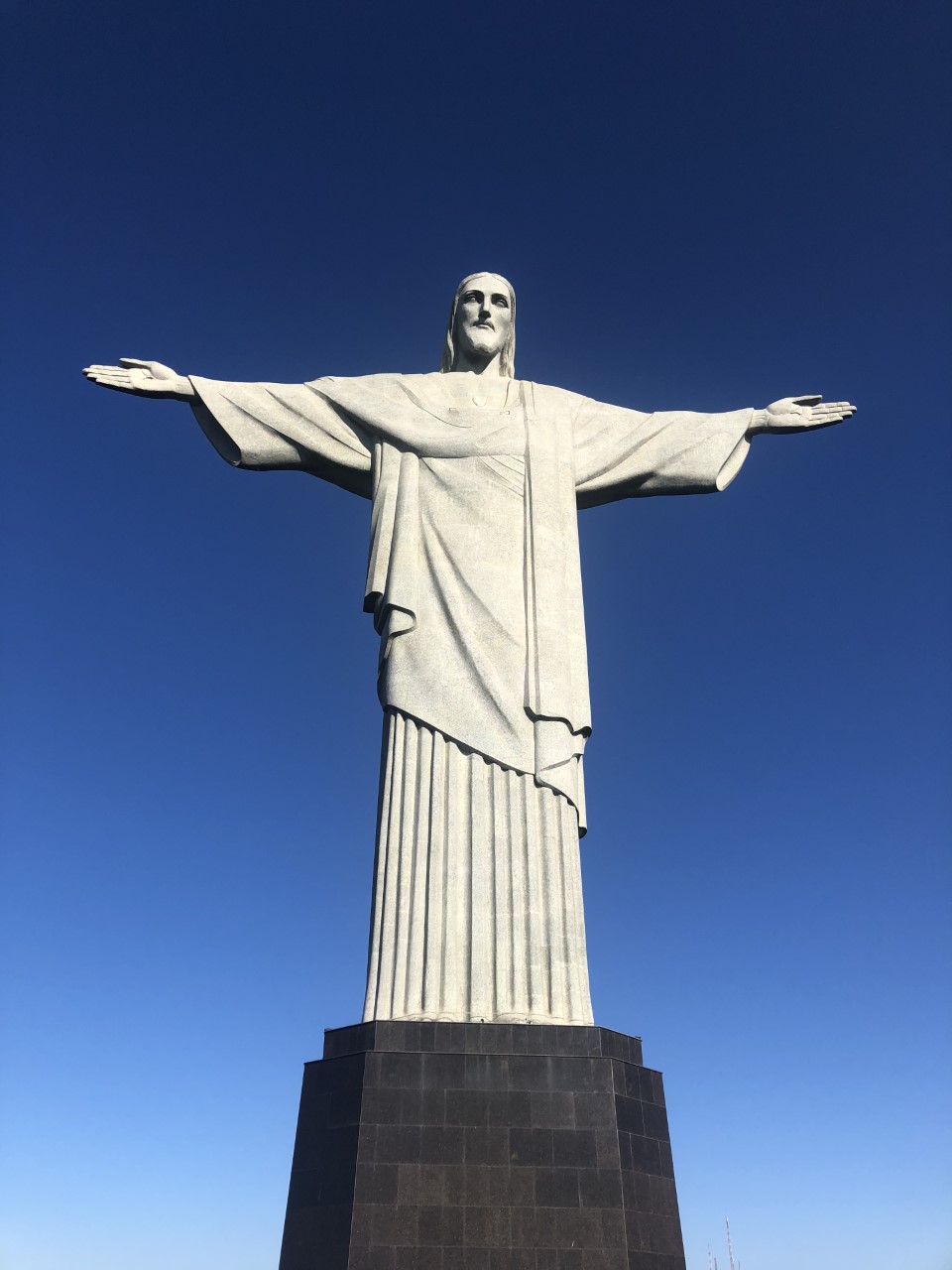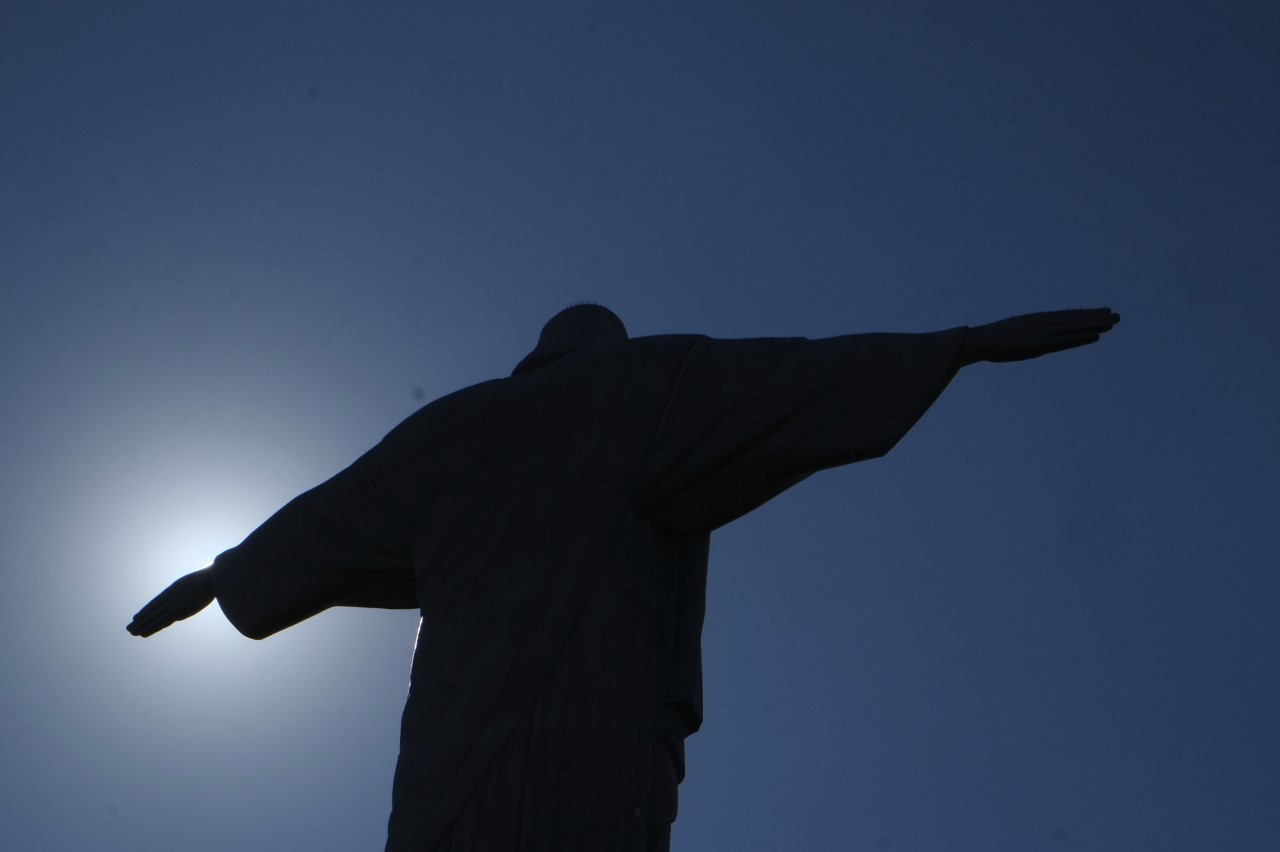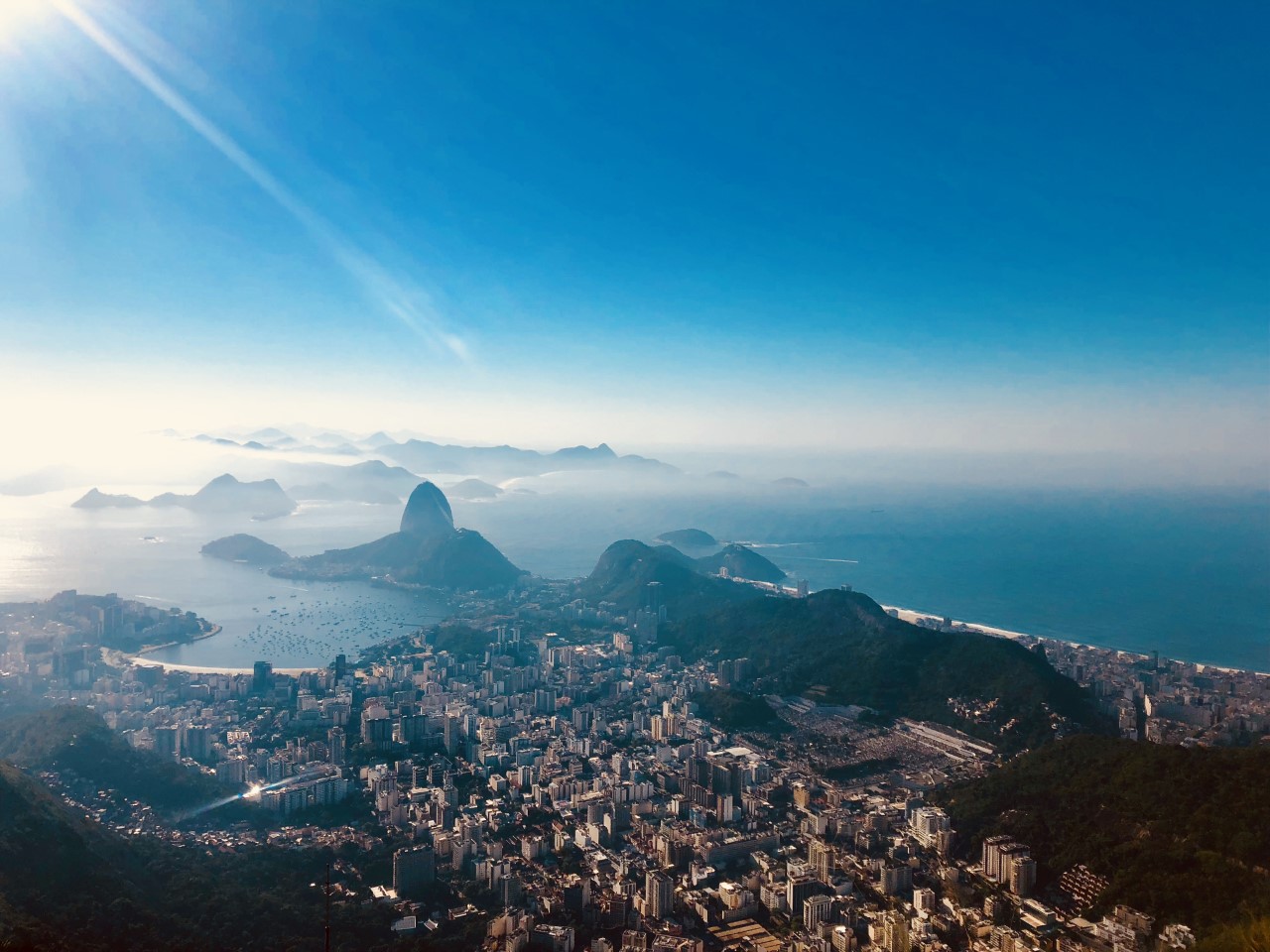 The crowds at Sugarloaf Mountain were no better, and despite arriving with almost two hours to spare before the sun was due to disappear over the horizon, by the time we took the cable car to the top of the mountain, it was getting dark. Again, the views were spectacular, but after two hours of waiting in various queues for the cable car, it didn't take long for our patience to wear thin, and we faced more long queues to get back.
When we weren't trying to take in Rio's beautiful views, we were admiring its beautiful beaches. Once the Oasis trip finished, we stayed in a lovely pink hostel in Ipanema, which happened to be the building where Antonio Carlos Jobim, the singer and composer who wrote 'A girl from Ipanema' had lived while he wrote the song. We were just a couple of blocks from the beach, so enjoyed various relaxing strolls along the sand to Ipanema and nearby Copacabana.
—
As our time in Rio draws to a close, we are gearing up for the final phase of our adventure: two weeks in Cuba, followed by a week in New York, before we fly back to Dublin in September. Over the last three months we've driven nearly 7,000 kilometres in Spongebob, snorkelled with sea lions and hammerhead sharks in the Galapagos Islands, tubed down the river in the Amazon rainforest, sandboarded in the Peruvian desert, trekked through the Andes to Machu Picchu, roamed the salt flats of Bolivia, appreciated the magnificent Iguazu Falls, and taken in the views of Rio de Janeiro.
Our South American trip has been tough at times, but it's also been interesting, adventurous and exciting, with something new around the corner almost every day.
Tomorrow we fly back to the northern hemisphere and back to the endless summer, taking one step (or 6,000 kilometres) closer to home.