I was first inspired to visit Tasmania by the cartoon 'Taz-Mania', a 90s TV show depicting the adventures of Looney Tunes star Taz (a Tasmanian Devil), along with his extended family, friends and enemies on the island of Tasmania.
It also had a catchy theme song, starting with:
"Welcome to the land that's way under down under,

The sky's always yellow come rain or shine…

Down in Taz-Mania, come to Taz-Mania"
And ending with:
"Down in Taz-Mania, come to Taz-Mania. We mean you!"
So, of course, we had to go.
—
As Tasmania is "way under down under", the temperature is usually a few degrees cooler than mainland Australia. After seven months of near-continuous summer, any temperature of less than 20 degrees celcius now feels cold to us (this does not bode well for the future), so we wanted to visit Tasmania while it was still summer in the southern hemisphere. It also happens to be conveniently close to Melbourne, so the end of our road trip from Brisbane to Melbourne seemed like an ideal time to start a new road trip around the island of Tasmania.
Our trip started on an interesting note when I had an email from an airbnb place we were planning to stay in at the end of our week in Tasmania:
"Hi Georgia

Thank you for booking our room overnight. This information might be useful to you during your visit to the Tasman Peninsula:

There are limited options to eat out on the Tasman Peninsula. There are a couple of small outlets about 5km away selling fish and chips, pizza, home made pies etc. Both of these close at 6pm.

If you plan to cater for yourself, stop at Sorell, a town about 70km away on your way from Hobart to pick up some supplies from the supermarkets, butchers, bakers etc.

***There are no supermarkets or large stores after Sorell.***

Please note there is limited phone signal coverage on the Peninsula (and in much of Tasmania). If you have a choice, pick Telstra, and if you are using a GPS on your phone that way not work either.

I hope that helps! 🙂 "
It really did help. From Cairns down to Melbourne, we'd never found ourselves far away from a big supermarket, almost always had good phone signal and and had no trouble finding food late at night. In rural Tasmania, life was a little different.
Hobart
We flew into Hobart and enjoyed a couple of nights in a real bed before picking up our "campervan" (a hire car that we were planning to sleep in the back of on an air mattress). Our main activity in Hobart was a visit to MONA (the Museum of Old and New Art).
MONA is the largest privately owned museum in Australia; it's essentially a rich man's private art collection, and it has a reputation for being a little bit weird and a little bit controversial.
Having spent the extravagant sum of $50 AUD (about £28) each, we were able to take the 'MONA' ferry direct from central Hobart to the door of the building, and venture inside. We were expecting the museum to be strange and unusual, and it didn't disappoint. The building was a work of art in itself. The gallery was inside a three level underground cave cut into a rock. Once we found our way down to the bottom, we discovered we were contained in a maze-like structure, with no labels and no explanations of where to go or what to see. Thankfully we were given a special electronic device, which cleverly works out which art works you are near and can give you information if you want it, but with installations all over the place, just viewing the art was a challenge in itself.
Near the beginning of our MONA experience, Shane and I walked up to what looked like a Georgian house with old fashioned wallpaper and furnishings, and entered a museum within a museum: the Museum of Everything. The Museum of Everything is a travelling institution, which originally opened in London in 2009 and showcases the work of 'ordinary' people (non-academic artists, people outside the 'art-world', work by artists with disabilities, people producing art from inside hospitals or prisons, people making art for themselves rather than for it to be displayed in a gallery… the list goes on). It challenges conceptions of who has the right to become an artist, and whether art is something extraordinary or is it an 'ordinary' form of creative expression. Can everything be art? But does that mean nothing is art? And so on.
As a philosopher, obviously I loved it. It was like a maze within a maze, and I got lost there for hours. There was even a library midway through, so that you could sit down, have a break, and read a book. It didn't take long for Shane and I to lose each other, and the Museum of Everything was only one corner of MONA.
Outside there was a lot more to see, mostly along the themes of death, sex and a whole lot of weird. Shane and I didn't find each other again until the end when we made it out of the cave and back onto the ferry to Hobart. As well as wrestling with navigation difficulties and big philosophical questions, we had also contended with large numbers of other people, whom we hadn't expected to find in this hard-to-get-to corner of Hobart, Tasmania. It turns out that Lonely Planet named MONA the best modern art gallery in the world in 2015, and that 25% of all visitors to Tasmania make a trip to the museum. Along with an influx of cruise ship visitors, MONA has boosted Tasmanian tourism and helped to make Hobart into the next big trendy place to be.
Strahan
The following day, we picked up our 'hotel on wheels' (a Hyundai Tucson), and took a trip to K-mart to pick up an inflatable air mattress, some sleeping bags, plates and cutlery. Accommodation in rural Tasmania was too scarce and expensive for us to stay in hotels and motels, and purpose-built campervans were also too expensive to hire, so Shane came up with the brilliant idea to 'create our own campervan'. The cost of renting a big Hyundai Tucson was little more than the cost of renting the cheapest available car, while the camping essentials from K-mart cost us less than $50. Now we were able to stay in campsites cheaply, or wild camp for free.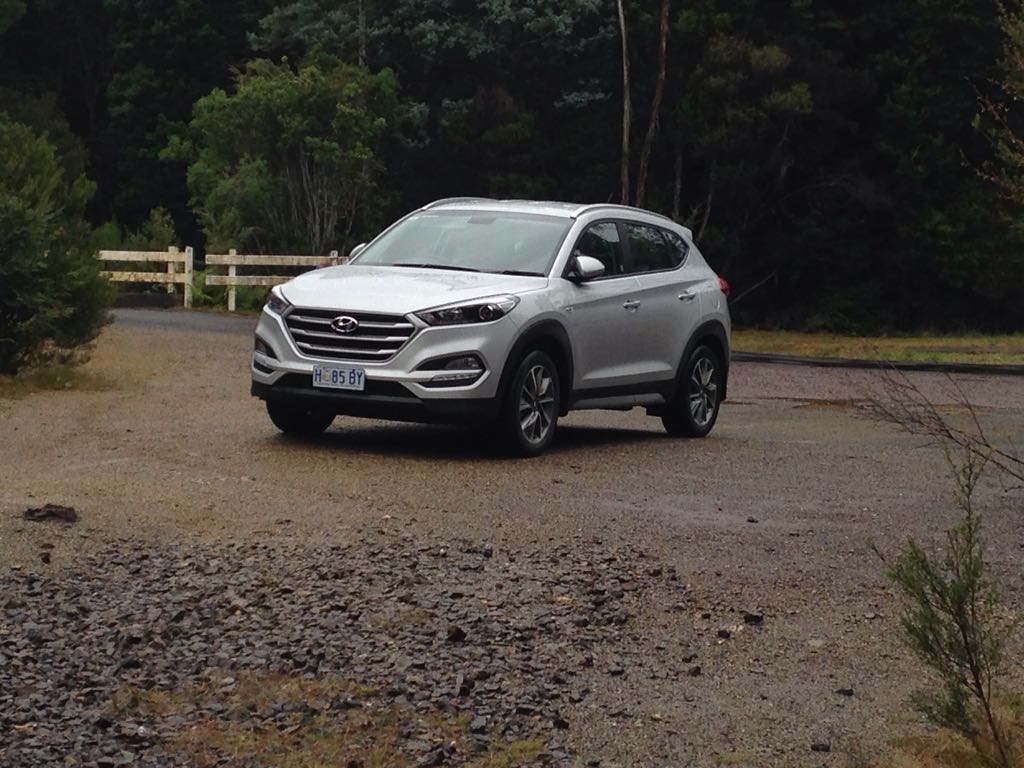 As we started our first big drive to Strahan on the west coast of Tasmania, we started to experience the issues that come with rural isolation that we had been warned about. Phone signal began to drop in and out, supermarkets, towns and all marks of civilization disappeared, and signs warning us of "no more petrol for the next 100km" popped up in their place. I had a little nap while Shane drove, and when I woke up I asked what I'd missed. "To be honest", Shane said, "there's been a whole lot of nothing."
We hadn't even picked a nice day for the drive. It drizzled constantly, what might have been beautiful scenery was buried in cloud and mist, and the wind didn't stop blowing. It felt more like an Irish summer than an Australian summer, and sleeping in our car started to seem less attractive by the minute.
But we made it to Strahan in one piece and spent our first couple of car-camping nights in a proper campsite, so that we could gradually re-acclimatise to life without the comforts of a real bed. Strahan proved to be a small and sleepy town, famous for its proximity to Sarah Island, a notoriously harsh prison island. We enjoyed a trip to the nearby Hogarth Falls and also saw Australia's longest running play, 'The ship that never was', which told the true story of an escape from Sarah Island, and involved an uncomfortable amount of audience participation.
Cradle Mountain
From Strahan we headed straight to Cradle Mountain, considered to be the "jewel" of Tasmania, and one of Australia's most beautiful national parks. As we drove along towards the park entrance, we saw various stops for scenic viewpoints, but something was missing. Rain was falling, clouds hung low in the air and there were layers of mist obscuring everything we were hoping to see. The view was just a grey cloud.
We stopped in the park's Visitors Centre and debated whether to continue with our planned day out in the mountains or whether to abandon it there and then. We voted to continue, brave the cold, mist and rain and complete a couple of the area's well known walks – a circuit of the lake, and the 'enchanted' walk through some kind of forest, which I chose based on the name alone.
As we started our circuit of the lake, Shane got his camera out to take a few photos. "Why take photos of the mist now, when it will probably have cleared when we get back round the lake? You can take photos then", I suggested to Shane. "Will it have cleared though?" Shane replied, and I had to admit that as the rain poured down on us and the clouds continued to roll in, it didn't look all that promising.
We completed our lake circuit (the view did improve slightly during the walk), and moved on to the 'enchanted' walk, which took us through a pretty forest past a babbling brook. It did look like something out of a fairytale, until we spotted a mystery snake curled up beside the path.
Eventually we escaped rainy Cradle Mountain and decided to look for somewhere safe that we could sleep in our car, preferably for free. After driving for quite a few kilometres and not seeing anywhere suitable, we pulled into a strange mural-covered town with the aim of asking for advice, but ended up spotting a sign to an 'informal campsite'. This turned out to be a secluded spot in a forest by a river, not far from a place amusingly named "nowhere else". In the morning I took advantage of the natural resources on offer and had a small wash and swim in the nearby river.
See the "facilities" at the "campsite"….
Bay of fires and Freycinet National Park
Over the next two days we continued our routine of driving and car-camping for free, stopping at Cataract Gorge near Launceston, and at the Bay of Fires on the East coast of Tasmania. The Bay of Fires was a spectacular region of white sand beaches, icy turquoise water and orange-coloured rocks, and was given its name by Captain Tobias Furneaux (who accompanied Captain Cook on his second voyage in 1773), and saw the fires of Aboriginal people on the beaches.
We then drove down the coast to Freycinet National Park, where the rocks were no longer orange but a pretty pink colour instead, and the beaches were just as spectacular. We hiked down to Wineglass Bay and I stuck my toes in the sea. Despite being warm from the sun and our walk, it was still too icy cold to venture any further in.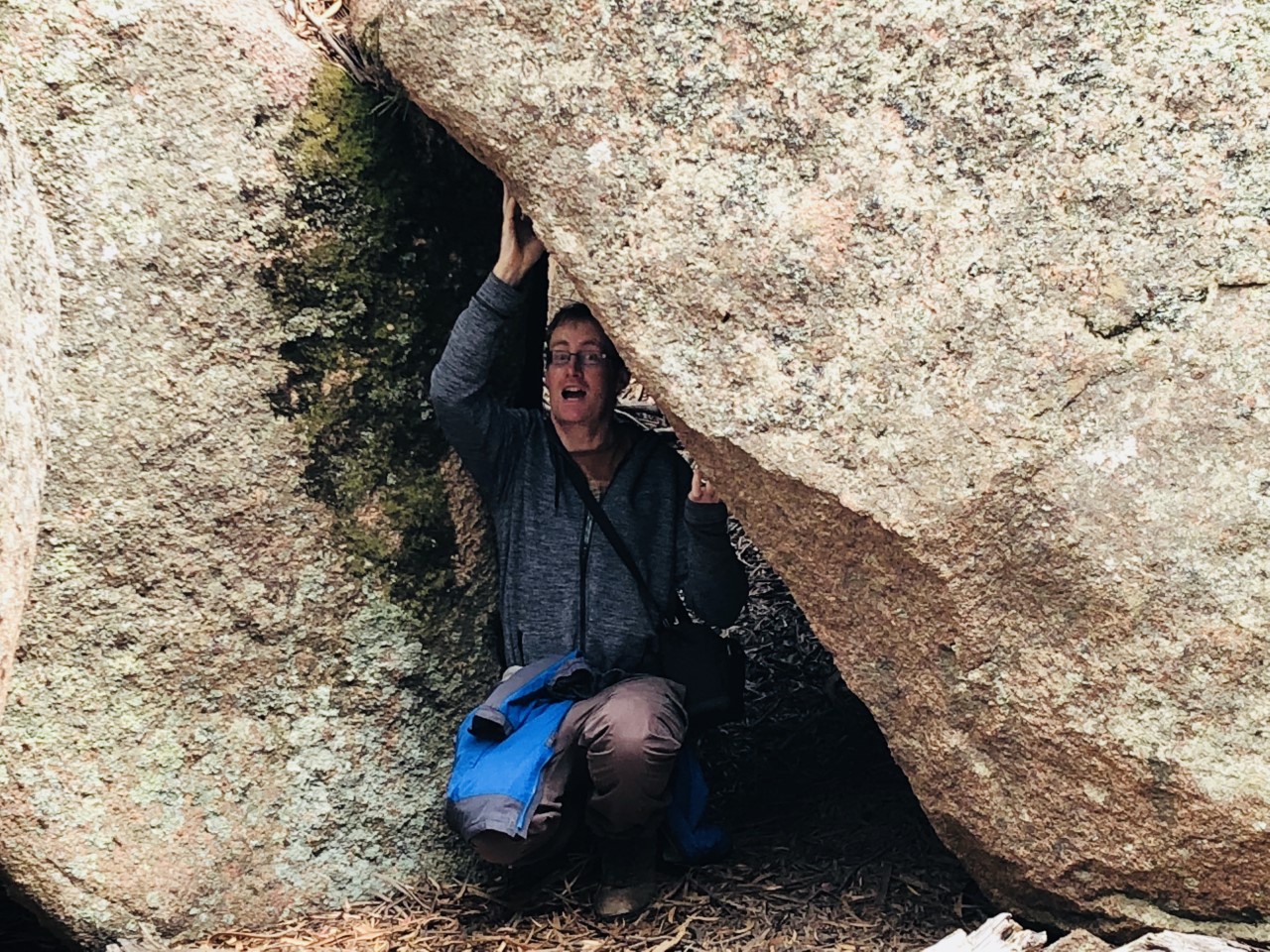 We spent the evening watching the sun go down over the sea as we prepared our car for another night of car-camping right by the beach.
Port Arthur
On our last day in Tasmania we headed down south to the legendary settlement of Port Arthur, a town and former prison for 'secondary offenders' (convicts who were sent to Australia and then committed further crimes once they arrived). Although the majority of the buildings that once made up the settlement have been destroyed in various bush fires, there was still a lot to see and learn about at the site.
Port Arthur was one of the strictest prisons, and was once known as the "inescapable prison", as it sits on the Tasman peninsula off Tasmania, a long way from mainland Australia. It was also famous for its shift from physical to psychological punishment, which led to many prisoners developing mental illnesses from a lack of light and sound.
It wasn't the cheeriest of places but it was interesting to see the prison buildings, learn about the history, and to take a boat out into the sea to catch a glimpse of the separate prison for boys and the 'island of the dead', where anyone who died inside the prison camp was buried.
Later that day we drove a short distance to Eaglehawk Neck to find our airbnb for the night. Sure enough, as the instructions we'd received at the start of the week suggested, we had no phone signal, there were no supermarkets and nowhere was open after 6pm. We grabbed a quick plate of chips from the Port Arthur general store and settled in for another night off-grid. After five nights in the car and three nights without any facilities, it was lovely to take a shower and go to sleep in a real bed.
—
Over the course of a week we could only skim the surface of Tasmania. The island is about the same size as Switzerland or Ireland, so there is a lot to see and a lot of ground to cover, but with a population of only 500,000 (nearly half of whom live in Hobart), there is also a lot of 'noting' to see too.
Overall, our trip way under down under was a success. Visiting Tasmania allowed us to see a different side of Australia, with plenty of rain, limited phone signal and its own unique devilish wildlife.
Little did we know that the weather, availability of supermarkets and quality of phone signal was about to get even worse as we left Tasmania behind and flew to our next destination: New Zealand.