Ten days of trash, trauma and traffic on the overrated island of Bali had left me tired of Indonesia and tired of travelling. As we prepared for our trip to Komodo National Park, I was somewhat lacking in enthusiasm, but tried to embrace the positives – at least we wouldn't be in Bali any more.
Getting to Komodo National Park turned out to be much simpler than I'd anticipated. Travel websites and blogs gave the impression it was a very remote and hard to reach destination. There were suggestions that we should take a lengthy combination of ferries from Bali to Lombok and onwards, which would be cheap but basic and logistically complicated. The journey would take days, and the thought of it almost made me abandon our Komodo venture altogether.
Instead, I found another way. Many companies offer day trips to the Komodo island, as well as to popular dive sites and surrounding islands in Komodo National Park from a small town called Labuan Bajo on the island of Flores. You can fly direct from Bali to Labuan Bajo (or you can also fly direct from Jakarta); the flight from Bali takes one hour and costs £50 (including baggage).
The only downside was that we had to fly with an Indonesian airline that didn't meet EU safety regulations (in this case Nam Air). As we boarded the plane, I looked around for any signs of impending doom. The plane looked a little bit old and a little bit rough round the edges. I studied the safety card carefully and noticed there were only four life rafts; two for the people at the front, and two for the people in the middle. None for the people at the back. Thankfully we were seated right in the middle, so I had high hopes of survival in the event of a water landing. Otherwise, though, everything seemed OK. That was until a few minutes before take-off, when one of the flight attendants suggested that we all should take a quiet moment to "pray for our safety". Comforting.  Thankfully, the flight was short, and the plane made it through the journey without incident. Labuan Bajo's small airport was just a five minute car ride to the harbour where we stayed at Blue Marlin Komodo: a small hotel and dive centre right by the sea.
This made everything really easy. Blue Marlin organised our dives and our trip to see the Komodo dragons as well as our accommodation, and what started as an epic voyage from Bali over various islands on uncomfortable ferries turned out to be one of the most simple and straightforward mini-trips of our adventure so far. We turned up at Bali airport, checked in for our flight, boarded the plane, landed at Labuan Bajo, and were picked up and taken straight to the hotel where our equipment was sorted out and our schedule confirmed for the next couple of days.
Komodo National Park is known for its giant dragons that wander the islands of Komodo and Rinca, but also for its diverse and impressive marine life. Both the dragons and the oceans are considered hazardous: the dragons can and do attack people, and if they bite you a slow and painful death may follow. The ocean has its own perils: strong and unpredictable currents which can quickly whisk you away without warning. Having only just completed our open water course, Komodo National Park wasn't an obvious 'next step' for our brief scuba diving career, but Blue Marlin had a special 'beginners boat' for those of us with limited experience, which took us to the safer, shallower dive sights.
Despite the fact that danger lurked around every corner, I instantly felt more relaxed and peaceful when we arrived in Labuan Bajo. On the short journey from the airport to the town we saw real life trees, rather than just shops, bars and litter! Despite being a fairly touristy town, Labuan Bajo was quiet and chilled out. I realised quickly that I'd made some grave errors in our travel planning: we should have spent a short time (or no time) on Bali, and much longer on Flores and in Komodo National Park. I'd got it all the wrong way round.
—
On our first day in the national park, we hit the sights hard, with two dives and a trek around Rinca island to see the Komodo Dragons. At 7.30am we climbed aboard a speedboat named Toby. Toby was a little rough but he was speedy, and transported us very quickly around the islands. We reached our first dive sight after less than an hour, donned our wetsuits and equipment, and did our first ever backward rolls off the boat into the water.
Unfortunately, it took us a while to get going. We tried to descend under the water, but both Shane and I stayed stuck to the surface. We tried everything – making sure we had no air left in our buoyancy control device, adjusting our breathing and kicking down under the water. Nothing worked. We were wearing longer wetsuits than on our previous diving experience in Thailand, and so we were more bouyant than we expected. Thankfully Toby the speedboat returned to us in a flash and brought us some more weights so that we could finally get down under the sea.
Once we were under, we were greeted by a dramatic underwater world, with beautiful corals and plentiful fish. I managed not to panic, and was grateful that we were diving with Melinda, a calm and patient dive master who didn't get annoyed with us for misjudging our weight requirements and taking forever to descend. Unlike in Thailand, I finally started to relax and actually enjoy the scuba diving experience, and our next dive later in the day was just as good.
After we had completed the two dives, Toby took us on to Rinca island, where we met an experienced 'dragon guide' who led us on a short trek around the island to see the Komodo Dragons. He carried a big stick 'for protection' and showed us how close to the dragons it was safe to stand (although even that was a bit too close for me). We saw the majority of the dragons lazing around in a little village on the island, hoping for scraps of food and relaxing in the shade, but when we set off for our trek, the adventure really began.
It started to feel as if we were in a real-life version of Jurassic Park. We walked through a forest area, and it wasn't long before we saw a little dragon running across the path in front of us. We held our breath and started to look around us, wary of dragons camouflaged in the bush who might have their eye on us. Aside from another baby dragon, the rest of the dragons we saw in the forest were thankfully fast asleep near their nests. They looked like some kind of cross between a crocodile and a dinosaur. Some of them were really big – several metres long – and they all looked a bit evil. While I was excited to see them, I wasn't too sad to leave them behind again, and to get back on the boat to Labuan Bajo.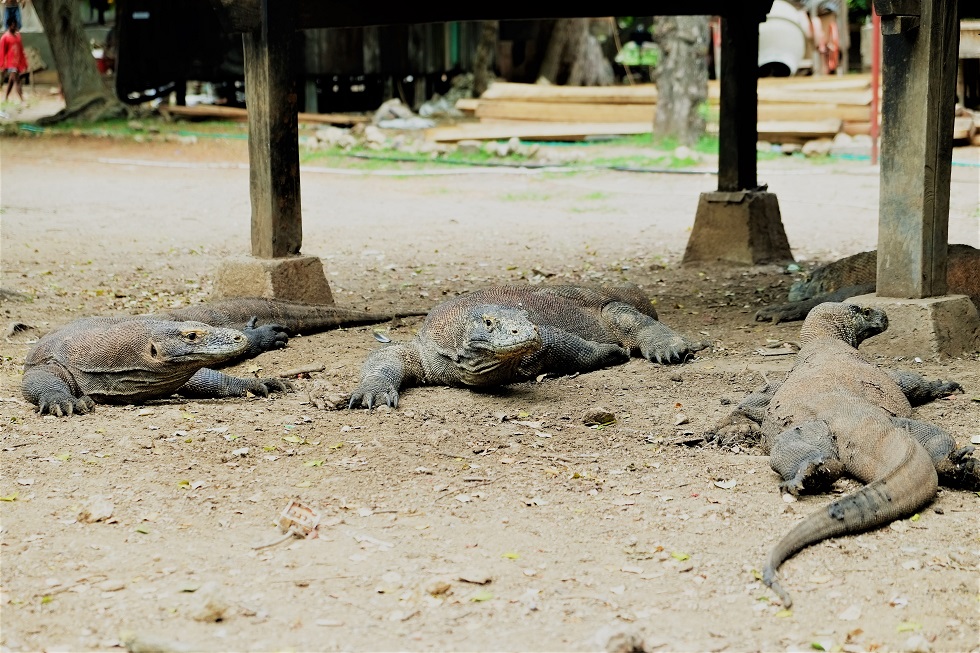 —
Day two brought a different boat (this time we were on Hugo – the slower 'beginner's boat'), and two more dives at safe and shallow locations. While our first dives in Komodo National Park had been great, the next two were truly spectacular. It was like being in Nemo's reef: we saw giant green sea turtles and huge manta rays, some of which swam right up close to us. The coral reef was vibrant and beautiful, and we saw more species of fish than I could name. When we came up to the surface, one of our diving companions remarked that this was "as good as it gets", and we felt incredibly lucky.
Click here to watch the manta rays swimming with us!
I realised I had also discovered a new love of scuba diving. The anxiety and panic I'd experienced in Thailand was a distant memory. We were lucky to dive with Melinda twice, who reminded us of the important safety information, hand signals and breathing techniques which I'd forgotten, and kept me stress-free at all times. Obviously seeing manta rays and turtles didn't hurt either!
—
After an amazing few days at Labuan Bajo and Komodo National Park, it was finally time to say goodbye to Asia and hello to our new home for the time being: Australia.
The last six months have been filled with everlasting weekends, amazing adventures, great people and fantastic food. We've visited 30 different countries, driven 15,000 kilometres in a 1996 Nissan Micra and survived 60 hours on the Trans-Siberian railway. We've dealt with crazy bureaucracy, disappearing roads, erupting volcanoes, terrible floods, angry Russians, and peanut poisoning. We've slept in a car, in a tent, in a yurt, on boats, in a hammock, and even in a swinging egg, as well as inevitably on planes, trains and buses. We learnt to scuba dive, surf and tried yoga, and we've eaten our body weight in kebabs (Central Asia) and fried rice (South East Asia). While it hasn't always been easy, it has always been an adventure, and we've never, ever suffered from the old Sunday night dread.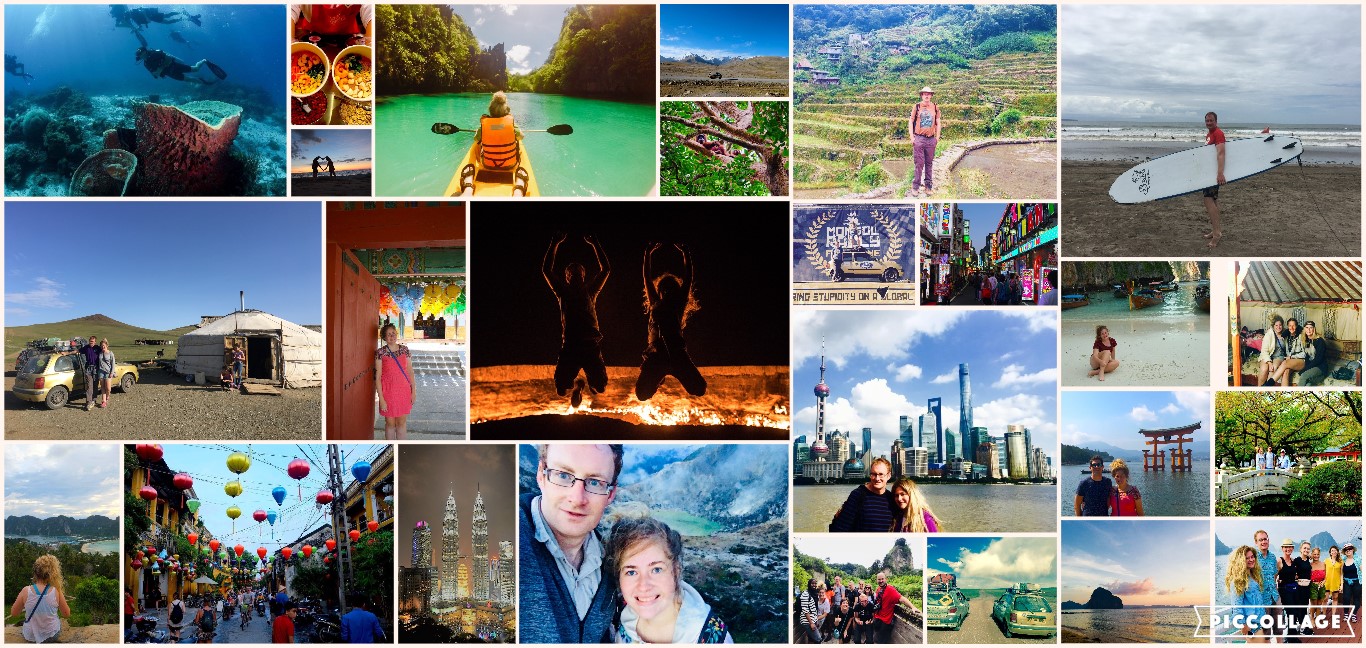 Please keep an eye out for our next post, highlighting the best and worst moments of our trip so far. To catch up on  any of our previous posts, simply click here and select a country we've visited or have a browse. We are planning to keep our blog updated in Australia as we enter the next phase of our adventure, so please do keep following us at www.shaneandgeorgia.com. Thank you for reading 🙂