What a year it's been. In 2017 we got married, left our jobs, rented our house out and set off in our little gold 1996 Nissan Micra (better known as Martha) to start a brand new adventure living out of backpacks and seeing the world. Martha took us across countries and continents all the way to Mongolia and to Ulan Ude in Russia, and she survived tricky terrain, long distances and dodgy fuel without a single issue. Shane I also survived extreme temperatures, crazy bureaucratic border crossings and terrifying driving conditions, and we still loved each other at the end.
From Ulan Ude we took the basic but interesting Trans-Siberian railway to Vladivostok, and then embarked on a trip around the Far East, discovering culture and karaoke in South Korea, cup noodles and Disneyland in Tokyo, and meeting my parents and brother for an epic sea voyage from Tokyo to Shanghai.
After Shanghai we started our travels around Southeast Asia, clambering up rice terraces and hopping across islands in the Philippines, escaping floods in Vietnam, and relaxing and learning to scuba dive on the islands of Thailand. We trekked through the jungle and climbed volcanoes in Sumatra, admired the architectural highlights of Kuala Lumpur and Singapore, attempted to surf in Bali and kept a safe distance from giant dragons in Komodo.
30 countries, 45,000 kilometres, seven weeks of driving, 60 hours on a train, 20 hours on planes, and too many hours on buses. There have been so many amazing highlights, but there have also been a few low points. Here, Shane and I each give our honest account of the best and worst moments of our trip to date.
We've written this separately, without any discussion or comparison, so any similarities or glaring differences of opinion are completely coincidental.
Georgia's highlights:
Two days before we reached Ulaanbaatar, we encountered the section of the Mongol Rally we were most worried about: a 270 kilometre stretch with no roads whatsover, which had claimed the lives of many healthy and happy cars before us. To our surprise, Martha didn't just survive those 270 kilometres, she loved them! Discovering that Martha was essentially made for Mongolia was a fantastic moment – a moment which confirmed her superiority over all other cars, and a moment which made us feel as though this big trip across Mongolia had always been her destiny. It was also fantastic to drive those last kilometres with the friends we had made along the way, especially team Kiwis Crossing, who had been with us since Barnaul in Russia.
Rather than the worst roads of the Rally, those 270 kilometres turned out to be the best roads for Martha, and for us. We had some great days of driving, and our nights spent camping with other teams in the wilds of Mongolia, and with a local family in their ger, were the cherry on top. The feeling of achievement that we had made it all the way to Mongolia, combined with Martha's seamless driving off-road, made these couple of days in Mongolia the highlight of the Mongol Rally. We will miss Martha forever, but will always be grateful we have those memories of her racing along and creating her own path in Mongolia.
Visiting South Korea was without doubt one of the highlights of our trip. We loved the ancient palaces, the vibrant neighbourhoods and the clean and efficient public transport, but most of all, we loved the food!
Korean BBQ was an excellent discovery. We ate at restaurants with BBQs built into the tables, and were given plates of meat to grill ourselves and eat with a variety of side dishes. It was delicious. We also discovered the local staple of 'fried chicken and beer', which is as simple as it sounds, but often involves chicken cooked in a delicious sweet and sticky sauce. Even the snacks we ate in South Korea were fantastic: we ate delicious pork meatballs at a food market, and we ate chips covered in a 'sea of cheese' (three different types of cheese, plus onions, plus bacon, and some kind of yoghurt).
All in all, Korean food was a revelation, and I can't lie… we have kept a look out for it everywhere we've been since. First meal in Japan? Yes, we ate Korean food. How about Vietnam? Well, we found Korean food. We did eat Japanese and Vietnamese food too, as well as plenty of local food in the Philippines, Thailand and Indonesia, but wherever we were, Korean BBQ and fried chicken was difficult to resist.
We spent a week in Tokyo visiting temples, weird museums, owl cafes and everything in between, but nothing could beat Tokyo Disneyland. It is, of course, the happiest place on Earth, and Tokyo Disneyland had the full Disney atmosphere and the classic rides as well as incredibly friendly staff, efficient systems and creative visitors who know how to dress for Disney fun. As well as the traditional Disneyland, we visited Tokyo's Disneysea, an entirely new park with amazing theming and some new and exciting rides.
This was also my favourite part of the trip because my Mum, Dad and brother Tom flew out to meet us for Disney time, and it was great to spend time with my family 🙂
It was worth a treacherous trek through the Sumatran jungle to come face to face with orangutans in the wild. In total we saw nine orangutans, including one male orangutan who is usually hard to spot, and several babies. We were really lucky to see so many orangutans, and they came within touching distance of us. It was a fantastic experience.
Diving and dragons in Komodo – December 2017
Another wildlife highlight from Indonesia was visiting the Komodo National Park, where we saw Komodo Dragons, giant green sea turtles, huge manta rays and various other aquatic animals. As well as the amazing wildlife, I overcame my fear of scuba diving and started to enjoy spending time under the sea. Komodo was a wildlife paradise, and I wish we'd spent longer taking it all in.
Georgia's low points:
A combination of extreme tiredness, driving for hours, losing our EU roaming capacity (and therefore our ability to navigate) and taking a wrong turn down a toll road (and not knowing how to pay the toll) made for a bad first day in Turkey, which quickly turned into a bad night when we couldn't find anywhere to camp. We ended up parked at a dodgy truck stop trying to sleep in Martha. Not only was this boiling hot and uncomfortable, it also led to me getting bitten about 30 times by mosquitoes, and waking up at 5am screaming because someone was trying to get into the car. This was the first time I thought "I want to go home".
It's hard to believe anything could be worse than the long, bureaucratic nightmare that was crossing the Caspian sea, but  the low point arrived when we completed the 18-step Turkmenistan immigration process only to be told by officials that we had to drive straight to Ashgabat that very night. This meant driving for ten hours through the dark on very little sleep, trying to navigate a huge sand cloud, avoid camels and stay on the 'correct' side of the road, which seemed to change at every junction. There were many moments where I felt as though we couldn't go on, but we were luckily to have three other drivers from other Mongol Rally teams with us to share the pain.
We arrived in Manila at 5am after a four hour flight from Shanghai, where we'd said goodbye to my family. Manila was not the easiest or most welcoming city. The traffic was terrible, as was the pollution, and the poverty and inequality were shocking. We tried to escape the worst of the city by getting some much needed sleep in a pay-by-the-hour hotel, which turned out to be pretty seedy. Unfortunately, even though we left Manila after just one day, we had to return twice more. The Philippines isn't the easiest country to travel around, so everywhere we went involved a trip back to our least favourite capital city: Manila.
One night in Sumatra I accidentally ate a burrito filled with peanuts. As I suffer from a mild (or at least, previously mild) peanut allergy, this wasn't ideal. I spent the next 48 hours with terrible vomiting and diarrhoea, barely ate anything and had to use one of the worst toilets I've ever seen in the middle of the bus journey to Padang. I missed out on "the best beaches of our trip" (Shane's words), and felt generally rubbish for a significant amount of time. I still don't know who puts peanuts in a burrito, but I haven't eaten one since.
While I sat on the back of our scooter trying to navigate from Kuta to Canggu in the dark, congested streets of Bali, my phone was snatched from my hand and we ended up lost in the dark, with no idea how to get back to our surf camp. I spent a whole day mourning the loss of my phone, marvelling at how often I used it in everyday life. Without it, I couldn't set an alarm (or even tell the time), use a torch, work out currency conversions, communicate with anyone, use a map, take photos or sort out booking confirmations for our trip.
—
Shane's highlights:
For me, choosing the best and worst moments was a challenging task. I find it difficult to make decisions at the best of times, and visiting 30 different countries in six months has left us with so many great and not-so-great memories. I found it really hard to narrow this down to just five best and five worst moments, but I have done my best:
The roads in Mongolia were supposed to be some of the worst in the world, and as we approached Mongolia we started to hear horror stories from the teams ahead of us. Cars were being destroyed, people were getting stranded, and expensive tow trucks were being procured. We expected this to be the toughest part of the Rally, and at the back of our minds we were both worried that we (and Martha) might not make it to the finish line.
Instead, it turned out to be the best part of the Rally. We drove on gravel surfaces and desert surfaces at speeds over 100 kilometres an hour, and Martha just slid around when we needed to turn. Slower speeds made Martha shake, as if we were going over a washboard, so we went as fast as we could, and Martha loved it.
We also joined other teams for the drive to Mongolia. This was because we were worried about breaking down, and about getting lost somewhere in the wilderness. With no roads, and no obvious direction to go in, there was a risk of breaking down and not being found for days, or forever. This turned out to be a great decision. Having other teams with us for this part added to our adventure, made it more fun, and let us enjoy the epic views without worrying about breaking down. If anyone from those other teams are reading, thank you guys! It was our teammates from Kiwis Crossing who also suggested that we stayed in a ger – one of the best experiences of our trip. We'd seen ger camps across Central Asia, but had never been inside one. While there are a few tourist ger gamps in Mongolia, we were lucky enough to stay with a local family. They cooked for us, tried to communicate (we are still looking for Michael), and we got to see how they live day to day. We now know there is no such thing as knocking when you enter a ger – everyone is always welcome – and the night we stayed there were many local people popping in to get boiling water for their pot noodles, asking for a cigarette, and of course, having a look at the weird tourists who had chosen to drive tiny cars halfway across the world.
I didn't think I would like sleeping in a pod. It was Georgia's idea to book a night at a capsule hotel in Japan, so I went along with it. It turned out to be amazing, and was probably the best night's sleep I had this year (maybe because Georgia was in a separate pod somewhere else!). As an engineer, I like it when things work efficiently, and a capsule hotel feels as though it's been designed by an engineer. There are no frills – just a great night's sleep. We had everything we needed for the night – towels, slippers, toothpaste, and even pyjamas. The temperature was automatic and was set to the optimum sleeping temperature. The pod was nice and big; it wasn't claustrophobic at all; and it had a small dimmer switch and charging outlet. The hotel had a common area for anyone wanting to work, hang out etc. but the pod area was just for sleeping and silent, just like a hotel should be.
We looked forward to this cruise from Tokyo to Shanghai for months. When we were hungry during the Mongol Rally, or when we bored of eating "mash in a cup" on the Trans-Siberian railway, thinking about the food opportunities on the cruise kept me going. The cruise was really good, and the destinations were amazing. I love history, and it was so interesting to see and learn about the history and culture of Japan, as well as the effects of the second world war and the atomic bombs.
After many weeks of driving, city hopping, sight seeing, hiking through rice fields and constantly moving, we arrived at El Nido in the Philippines. We were not overly impressed with the beach in the town. When the tide comes in the beach disappears and when the tide is out there are some many boats in the water it can be difficult to swim. We were told about another beach, which was supposed to be better. It was about 15 minutes away on a tricycle. Neither Georgia nor I are ever keen to spend money, especially on visiting a beach when we have a beach right in front of us, but on this occasion, we coughed up the £2 (very expensive by Philippines' standards), and took a tricycle ride to the beach.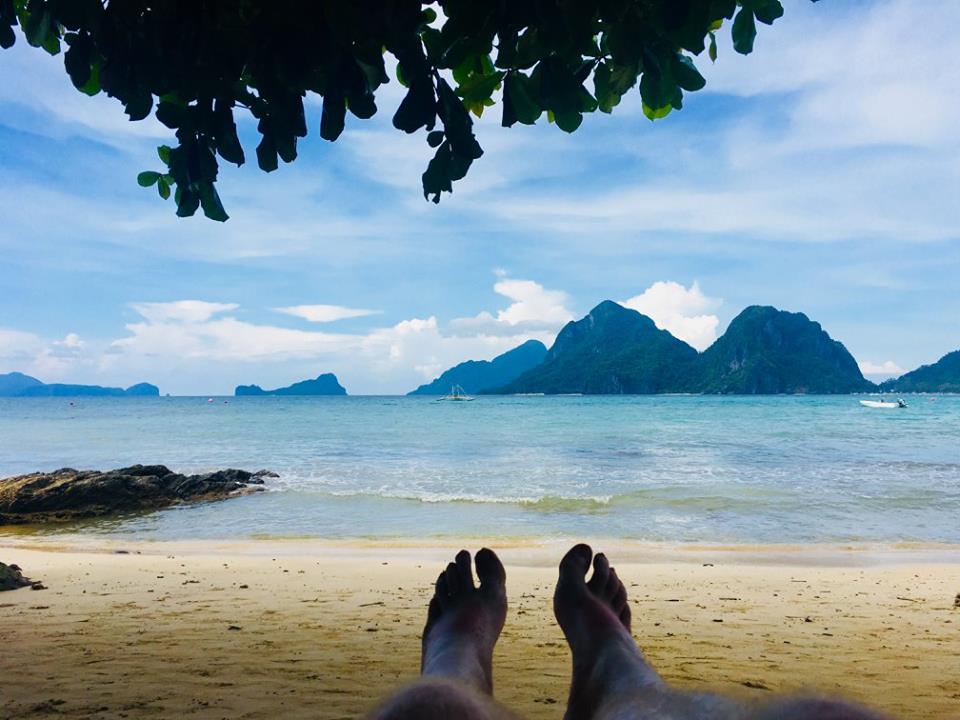 The beach was about a kilometer long. It was filled with white sand, there was barely anyone there, and we enjoyed ziplining across to a neighbouring island, having a drink under the coconut trees, and watching the sun go down over the horizon. I am not a beach person, but I really did enjoy our time here and I even managed to sit and relax for a couple of hours. It was how I imagined paradise, and was a great place to unwind and recharge before we travelled on to the hectic cities of Vietnam.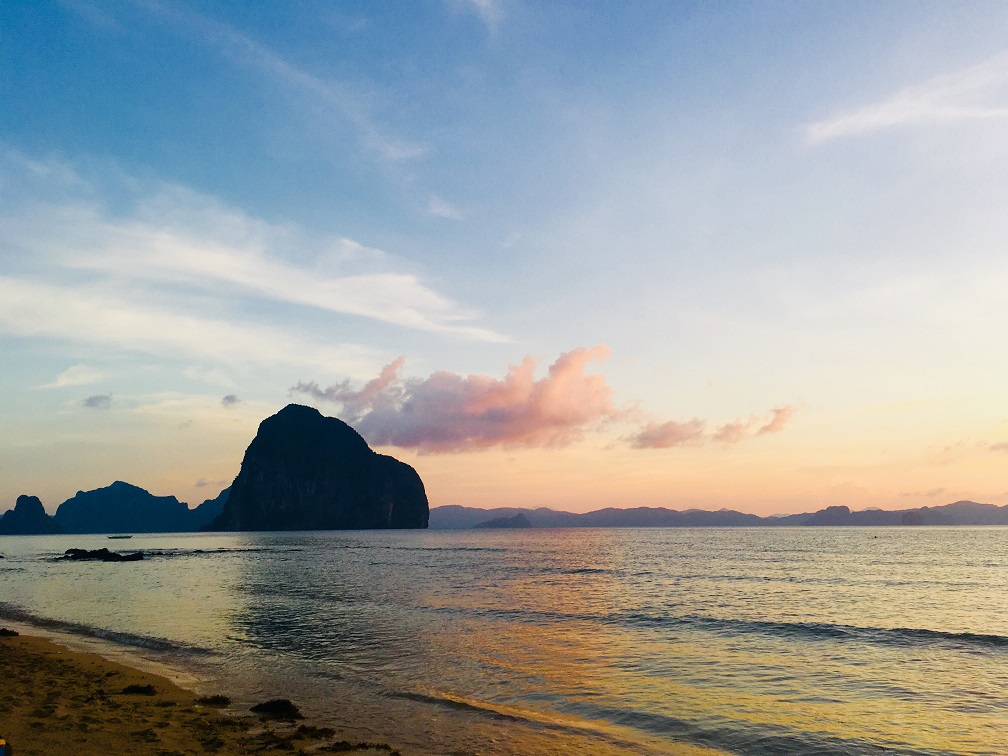 The food – july to december 2017

Over the last six months we have tried some amazing food, which we would never have eaten in the UK or Ireland. We often stick to what we know, but on this trip we had to eat what the locals ate, and most of the time we loved it. The highlights would be the kebabs in Eastern Europe and Central Asia, the black tea and sweets in Central Asia, The Mongolian BBQ in Mongolia, Korean BBQs and fried chicken in Korea, spring rolls in Vietnam, and chicken sate with nasi goreng in Indonesia.
Shane's lowpoints:
We took the Trans-Siberian railway from Central Russia to Vladivostok on the East coast; a 60 hour journey in cramped third class. Most of the journey was actually great, and even though we didn't speak any Russian and nobody in our carriage could speak any English, we used hand gestures and google translate and managed to have a few conversations. One night, however, was a little scary. There were two Russian gold miners who travelling East for work sleeping on the bunk opposite mine. Drinking alcohol is prohibited on the train, but they managed to hide their vodka bottles and drank about two litres each. One of the men became quite aggressive. We couldn't understand what he was saying, but the other passengers were becoming concerned. Eventually, his friend persuaded him to have a lie down, and the vodka took over and he fell asleep. I noticed he had left a large pocket knife on the table, so while he was sleeping I hid it from him, in case he intended to use it. In the morning he had to get off the train, and almost missed his stop. As he was about to get off, I handed him the knife, and gestured to explain that I had just found it on the floor. He thanked me, and left the train. Luckily the night passed without a major incident, but it was not the sort of train journey we are used to.
Sleeping in Tokyo Airport – October 2017
Over the last few months and 30 countries we have slept in all manner of places: buses, trains, cars, hostels, hotels, gers, tents, and pods, to name a few. However, sleeping in an airport has to be the worst. Public transport in Japan shuts down after midnight, and taxis are horribly expensive, so after a late night flight to Japan we planned to stay in the airport and get the train to the city the next morning.
After a full day of travelling we were pretty tired, so walked around the entire airport to find a few seats together where we could lie down. This wasn't easy, as everybody else seemed to have the same idea. We eventually found a space, but due to arm rests and various other anti-sleep chair designs, we couldn't lie down properly. Georgia managed to contort herself into a position so her feet went under the arm rest, but in no way did it look comfortable. I resorted to trying to sleep sitting up, but there were quite a few distractions. The lights were on, the airport was busy, people were coming and going, and we had all our possessions with us which we did not want to lose. I tried to sleep, but it was a very, very long night. While Georgia had a little snoozed, I just watched the clock tick and tick.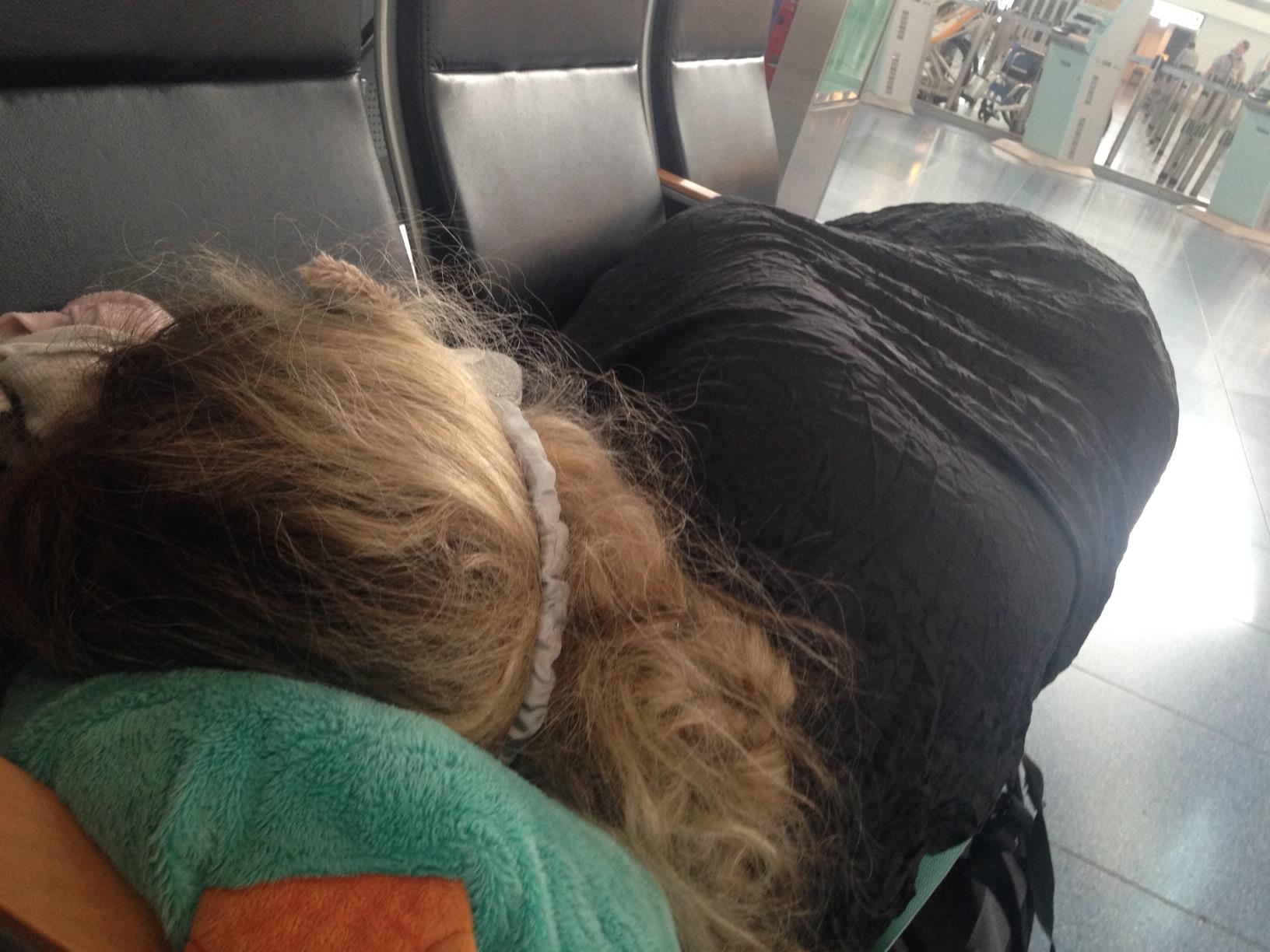 Surfing is something I have always wanted to try. Surfers always appear to be super cool; they appear in Beach Boys songs and Baywatch episodes, and a person carrying a surfboard has appeared in many a great sunset photo.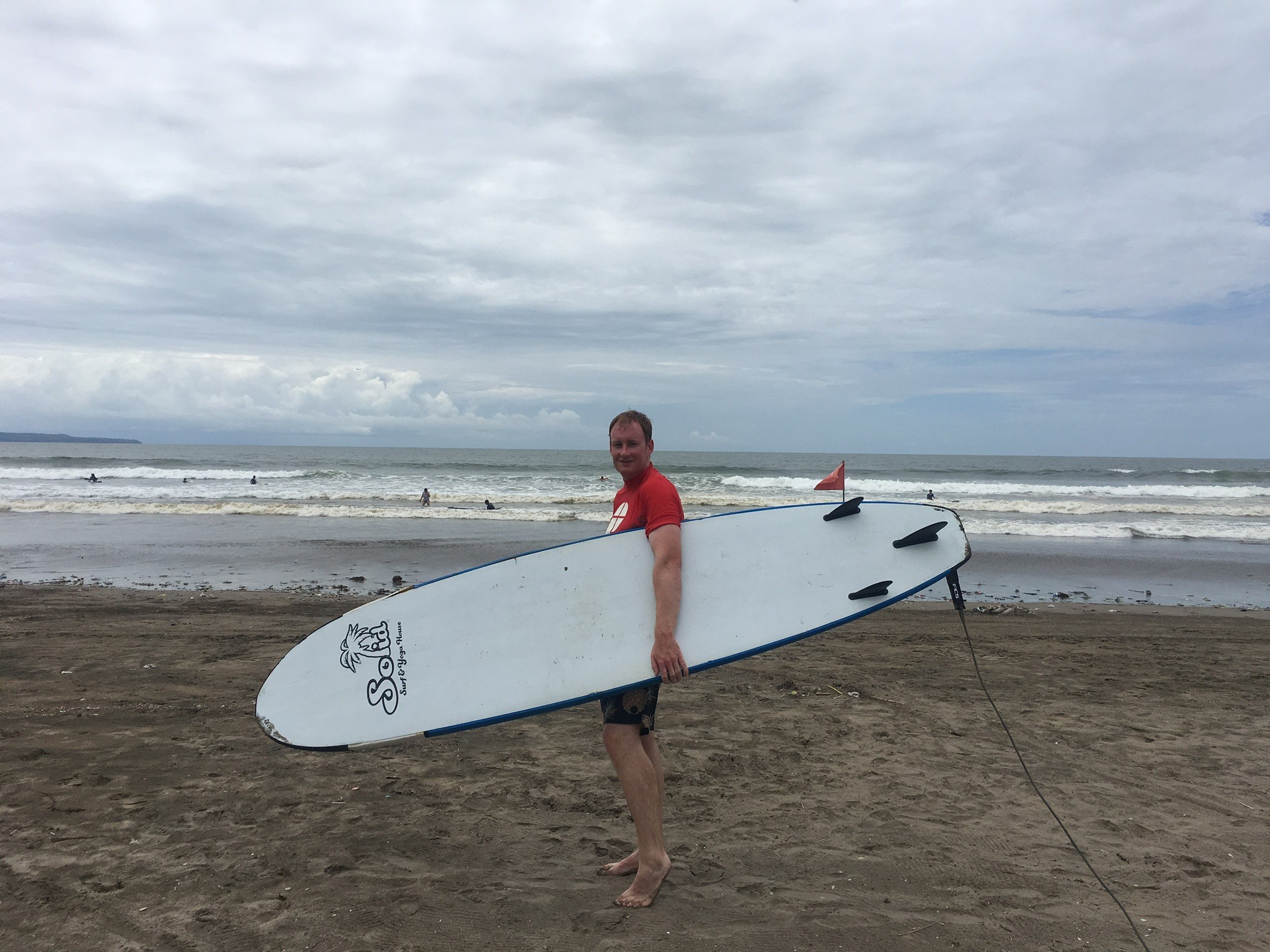 So, in order to achieve my life's ambition, we booked into a surf and yoga camp in Bali for a week, where we would have surf and yoga lessons everyday. The first day of surfing was good, apart from the constant need to pull plastic bags off my face that were floating in the water. The sea in Bali reminded me of a competition in Ireland, where school children designed clothes for people out of rubbish. Walking out of the sea in Bali, any one of us could have been modeling those items – we were covered in everything from crisp packets to plastic bags, and everything in between.
The second day of surfing wasn't nearly as good as the rubbish-bin experience. The waves were bigger, and a lot further out. To get to the waves involved 15 minutes of lying on the board, paddling out to the waves. By the time I got there I needed a rest! When I eventually caught a wave (and inevitably fell off the surf board), I then had to turn around and paddle back out. This was torture, my arms were killing and my inner arms were getting completely raw from rubbing on the outside of the board. After an hour or so of this and being continually hammered by the waves I made my way back into shore. When I confessed I hadn't had the best time, the instructors warned that surfing is actually 90% paddling, and paddling is meant to be fun. This made me question whether surfing is really for me.
We boarded a flight from Labuan Bajo on the Flores island back to Bali. The plane was quite large, and seemed fairly modern, like a standard Ryanair Airbus A320. As we were taxiing out on to the runway one of the air hostesses asked for quiet and started to speak in a different language. I thought maybe there was a birthday onboard or a special announcement. She then repeated what she had said in English. She requested that everybody would take a quiet moment to pray in our own way for a safe flight and safe arrival of the plane into Bali. As an engineer I found this a little troubling, surely good maintenance and a competent pilot will ensure our safe arrival into Bali and hopefully they are not relying on prayers alone! It all seemed reminiscent of an episode of the Irish comedy series 'Father Ted'.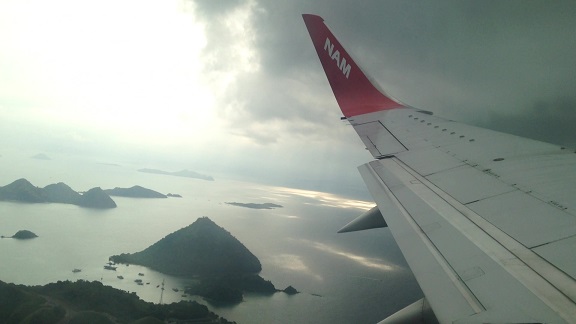 Breakfast – July to December 2017
I love breakfast, and having a cooked breakfast is one of the main things I look forward to when staying in a hotel or a B&B. On this trip I have discovered that I don't really like breakfast – I only like Irish, English, continental or American breakfast. While most of our accommodation has been of the basic, budget variety that rarely includes any extras (like breakfast), we have also stayed in some nicer places – including a five star hotel in Turkmenistan, and a boutique hotel in Bali. When staying in nicer places, I looked forward to breakfast time and some seriously delicious items to tuck into. Unfortunately, this wasn't to be. In Turkmenistan we found cereal, coffee, hard boiled eggs, croissant shaped bread and some type of jelly, which wasn't quite what I'd been dreaming about. In Bali we woke up on Christmas day, excited for our "international" breakfast, and found fried rice and fish curry. There was nothing wrong with eating bread, rice and fish curry for breakfast everyday, but I really missed a familiar full Irish.
—
We've had some seen some amazing sights and had some incredible adventures over the last six months. While we've also had a few challenges thrown at us, the good times have definitely outweighed the bad. Driving a tiny inappropriate car to Mongolia and travelling on cramped trains, tiny tricycles and rickety boats has pushed us out of our comfort zone, and we've learnt a lot along the way. Encountering new lands, new foods and new experiences hasn't always been easy, safe or secure, but it has always been rewarding, exciting and life-affirming, and we can't wait to do it all again in 2018 🙂
We will keep the updates coming from the land down under, but if you'd like to catch up on any of our blog posts from the last six months, or to subscribe to our blog, please click here.